Happy New Year, internet! Here's hoping 2015 personally comes to your house, pushes 2014 down a staircase, pushes a piano down the stairs after it, blames it on 2013, and works double overtime to be a vastly better year for you. I won't tell on 2015 if you won't.
As in years past, those all-knowing stats overseers at WordPress.com have compiled an automated 2014 Annual Report for each and every blogger on their roster, complete with New Year's fireworks that you can pretend is a handy screensaver by leaving your computer on and your browser open 24/7.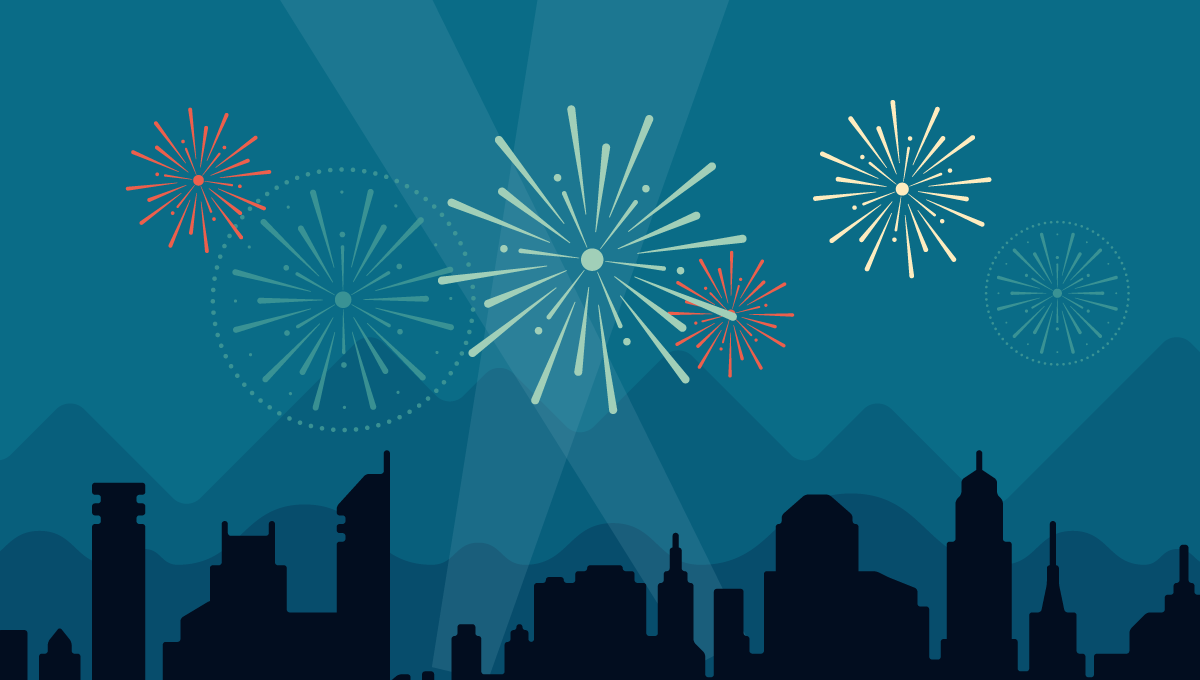 Random fun trivia quote:
The Louvre Museum has 8.5 million visitors per year. This blog was viewed about 79,000 times in 2014. If it were an exhibit at the Louvre Museum, it would take about 3 days for that many people to see it.
Click here to see the complete report! It's like a 40-second read.
It's slightly less fun when you know that traffic topped 80,000 last year, and that the 2013 report used the same Louvre comparison. If the Louvre's attendance declined at the same rate as mine, then I suppose I'm in decent company.
In addition to the facts and figures I already reported yesterday with my own manually culled year-end review, this report also celebrates MCC's Top 5 commenters of 2014, whose sites you should check out and lavish attention upon at length, for they shall be the bold commanding officers overseeing the WordPress battalions if we're ever drawn into a pointless armed conflict against Tumblr.
One thing that's captured neither in this report nor in my own: the breadth of topics covered on MCC in 2014. They may not have ranked on any of the charts, but the topics that popped up this year included the likes of:
* The events in Ferguson, in the early days before the mainstream media turned local havoc into a nationwide bandwagon; and one more time in brief after the breathless non-indictment announcement that taught America the importance of taking public-speaking classes before giving a speech on TV
* The non-release of The Interview, which I came thiiis close to watching until I remembered I can't stand that kind of movie
* The Purdue school shooting that occurred while my son was in the same building at the time, two floors up
* The Chris Christie "Bridgegate" scandal, to which mature, diligent journalists swiftly responded with stupid fat jokes
* Puppy Bowl X! And just think, Puppy Bowl XI is over a month away. Clear your social calendar today.
* My fake crowdfunding campaign — i.e., the more lighthearted of two entries in response to multiple frustrating Kickstarter failures
* Our armchair chefs' guide to winning at Chopped, an entry cowritten with my wife after watching several dozen episodes
* How not to be a "nice guy", as written by someone who misinterpreted that phrase far too often in his own youth
* "My Heroes Don't Always Need to Be White Guys", a title that speaks for itself
* Ideas for winning the war on ISIS, or ISIL, or ISLEY, or ISCREAMUSCREAM, or whatever the acronym of the week is
…and more, more, more. We had conventions and road-trip photos and movies and live-tweeting and the occasional mention of comics, but 2014 had more dimensions to it than just those. There was one controversial Topic That Must Not Be Named that I regret having never touched upon for a variety of reasons, but we'll see where 2015 takes us. Expect more road-trip pics, more goofy Top 10 lists, more movies, Oscar season ahead, at least one cute doggie photo, and who knows what else will spring forth from my absentminded imagination in the months ahead as we gallop onward toward MCC's 1,000th entry sometime in April.
Allow me to recap the most important message in all of this, and then you're free to go forth and celebrate that pesky dead year away:
Happy New Year from Midlife Crisis Crossover!