Happy New Year, internet! Here's hoping everyone's 2016 is a vast improvement over the unbelievably tragicomic 2015, just like the genetically superior Star Wars: The Force Awakens helped everyone put Revenge of the Sith behind them for good.
As in years past, those all-knowing stats overseers at WordPress.com have compiled an automated 2015 Annual Report for each and every blogger on their roster, complete with vaguely art-deco New Year's fireworks that you can use for Twitter Profile wallpaper or whatever.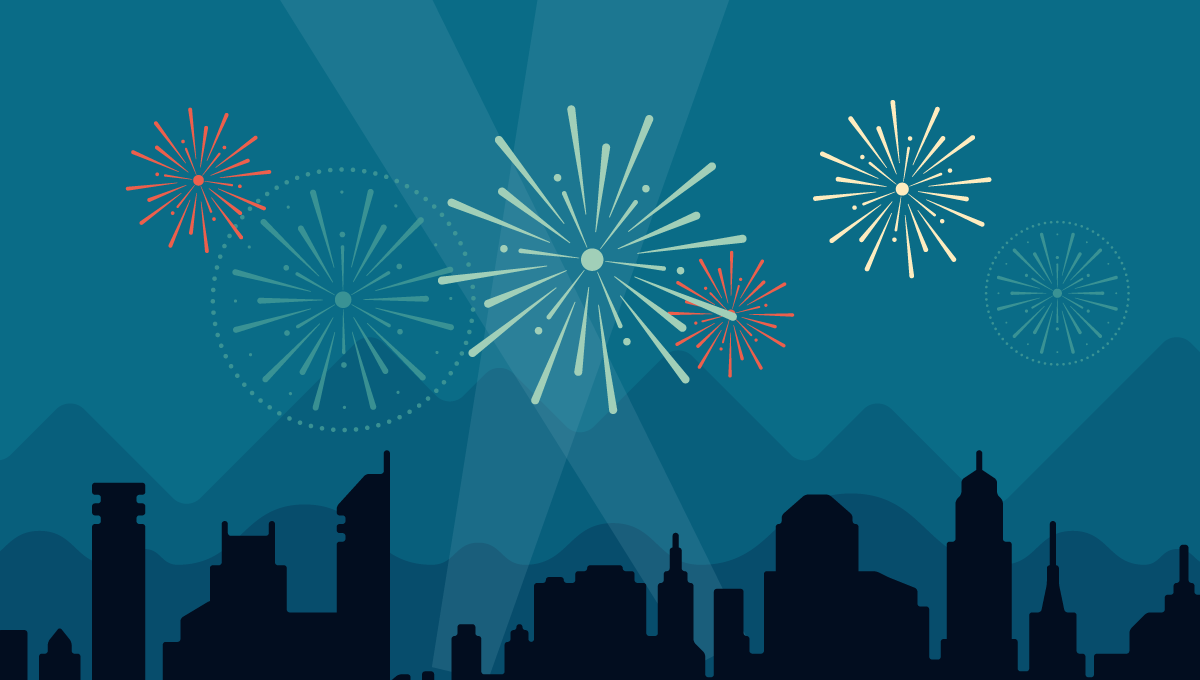 In addition to revealing the 148 countries that visited us last year, as well as the identities of MCC's five greatest commenters of the year who deserve cash awards, there's also this sample statistic that you can use for comparing where we stand against millions of other, actually popular sites:
The concert hall at the Sydney Opera House holds 2,700 people. This blog was viewed about 49,000 times in 2015. If it were a concert at Sydney Opera House, it would take about 18 sold-out performances for that many people to see it.
Click here to see the complete report! It's short and they made pictures an' stuff.
But wait! There's more!
As I mentioned in my own exhaustive year-in-review countdown, MCC site traffic this year was down 39% from 2014. If I were a large corporation, this alarming figure would result in immediate firings, harsh cost-cutting measures, hiring of new management and creative personnel from outside the industry, and a radical overhaul of everything MCC stands for, all in hopes of kowtowing to a completely different demographic and being anything and everything except who I am. All I need are my own Tumblr, a new set of trendy young peers, and a list of approved topics and entities to lecture everyone about every week at the top of my lungs.
Lucky for me I'm not a corporation, then. For the sake of remembering who I am and why we do what we do here, the following is a list of notable MCC posts from 2015 that didn't rank highly enough for inclusion in the year-in-review entry. Some were unforgettable moments in time; some were my favorite entries to write; some are For Your Consideration if you're part of an electoral body that can help turn me into an overnight international sensation who'll someday get to see one of his essays adapted into a critically reviled Mark Wahlberg vehicle. Enjoy!
* Technically Easy Ceiling Repair for Hopeless Amateurs — Inspired by that timeless MCC classic "Installing This Stupid Dryer Vent Cover Counts as a Victory", we stumbled through another misadventure in awkward home repair that, in a shocking plot twist, revealed itself as an indirect sequel to "Dryer Vent Cover". I envision pitching this to Hollywood as a multi-camera comedy series like Home Improvement minus the laugh track and superfluous child actors, and the part of Wilson played by an imaginary friend.
* The Most Irrelevant Man in the World — The prophecy ultimately borne out by this year's stats. Written as dramedy, this one spooked me a bit upon rereading.
* Indiana Comic Con 2015 Photos, Part 4 of 4: Braving the Battle Lines — Though the Carrie Fisher glitter story is now in my personal geek-victory hall of fame, the mismanaged tapestry of confusion leading up to it did not impress me as a convention-goer. I live-tweeted some of our exasperation from the scene, then wrapped it up later at home for posterity so that future generations might learn how not to organize autograph lines.
* Top 10 Surprises in the Upcoming "Teletubbies" Reboot — Sometimes I do short, silly humor pieces, frequently as lists because I've been a fan of lists since childhood, years before I knew what a David Letterman was.
* An Old Guy's Very First "Weird Al" Yankovic Concert — I've never been an avid concert fan, but when Weird Al came to town, how could I possibly say no? He was totally cool with everyone taking pics all throughout, but I limited myself so that I could, y'know, actually relax and enjoy the music, his antics, and interstitial YouTube clips of his various TV/movie appearances. So yeah, I want this night remembered in perpetuity.
* Space Makes Every Movie Better — Sci-fi movie sequels! Getcha sci-fi movie sequels, hot 'n' fresh off the MCC presses before paid screenwriters rip 'em off!
* What You Can Do for Emanuel AME — My response to the Charleston church murders back in June, for which I was grateful to see an above-average number of Facebook shares — not for myself, but for those in a time of undeserved suffering at the hands of one wretched soul. (On a related note: remember that time when everyone debated the merits of the Confederate flag? You may or may not want to stay tuned when our 2015 road trip series resumes this week.)
* Eulogy for Sixteen Years' Worth of Files — The Great Hard Drive Crash of July 2015 wiped out a lot of archived writings, notes for future MCC plans, and thousands of photos, not all of which were backed up online. We keep uncovering new consequences from the losses literally every week.
* Wizard World Chicago 2015 Photos, Part 7 of 7: Why We Convention — Tom Spurgeon at Comics Reporter called this you-are-there geek-convention essay "amazingly lengthy" and "really useful if you don't go to that kind of show anymore to sort of see what one's like." As pull quotes go, I'll take it.
* Grieving the Erasure of Your Favorite Corporate-Owned Universe — I know I just linked to this in our recent Star Wars roundup entry, but as long as we have embittered Star Wars Expanded Universe fans waging internet warfare on other Star Wars fans for liking Star Wars incorrectly, there'll always be a need for an essay about the psychology behind their inability to deal with corporate rejection.
* Airport '15: The First One — Another 2015 milestone for us: my wife and I, in our early 40s, took our very first ride in an airplane. We'd never flown. And now we have. This is how it went and the true story of whether or not we made it there alive.
* An Afternoon with the Woman Who Forgave Josef Mengele — How my wife and I spent her birthday this year. I wrote this as a three-part series, the other two parts of which ranked on 2015's most-Liked list. This one, however, was the true substance and purpose of our trip to Terre Haute, where we met Holocaust survivor Eva Mozes Kor in person and heard her incredible survival story at length.
…and more, more, more. We had conventions and road-trip photos and movies and we mentioned faith and comics too few times, but 2015 kept me sufficiently occupied. In the year ahead, expect more road-trip pics, more movies, Oscar season ahead, maybe some humor if it comes to mind, at least one cute doggie photo, and the endless series of trainwrecks that I'll be dodging as everyone in America except me squabbles over the 2016 American Presidential Election, starring absolutely no humans I'm enthusiastic to support. You'll find me here regardless, still plugging away, trying to make the most of my time and talent despite my aging-white-guy status, learning to find joy and beauty in the world's vast panorama of minutiae and irrelevance.
Thanks for reading anyway. See you next year!