Empty Nest, Week 6: a Mission of Mercy and Meat
Previously on Midlife Crisis Crossover: in mid-August my son moved into his own apartment up at college, living alone for the first time. Naturally we underwent various bouts of grief, panic, pacing back and forth, imagined scenarios of endless possible disasters, and a sort of loving numbness that I wouldn't necessarily call acceptance.
Last weekend my wife and I paid him a visit and took him out to lunch at a local joint recommended by people we trust. Thus we declared Saturday burger time at a local oxymoron named the Triple XXX Family Restaurant.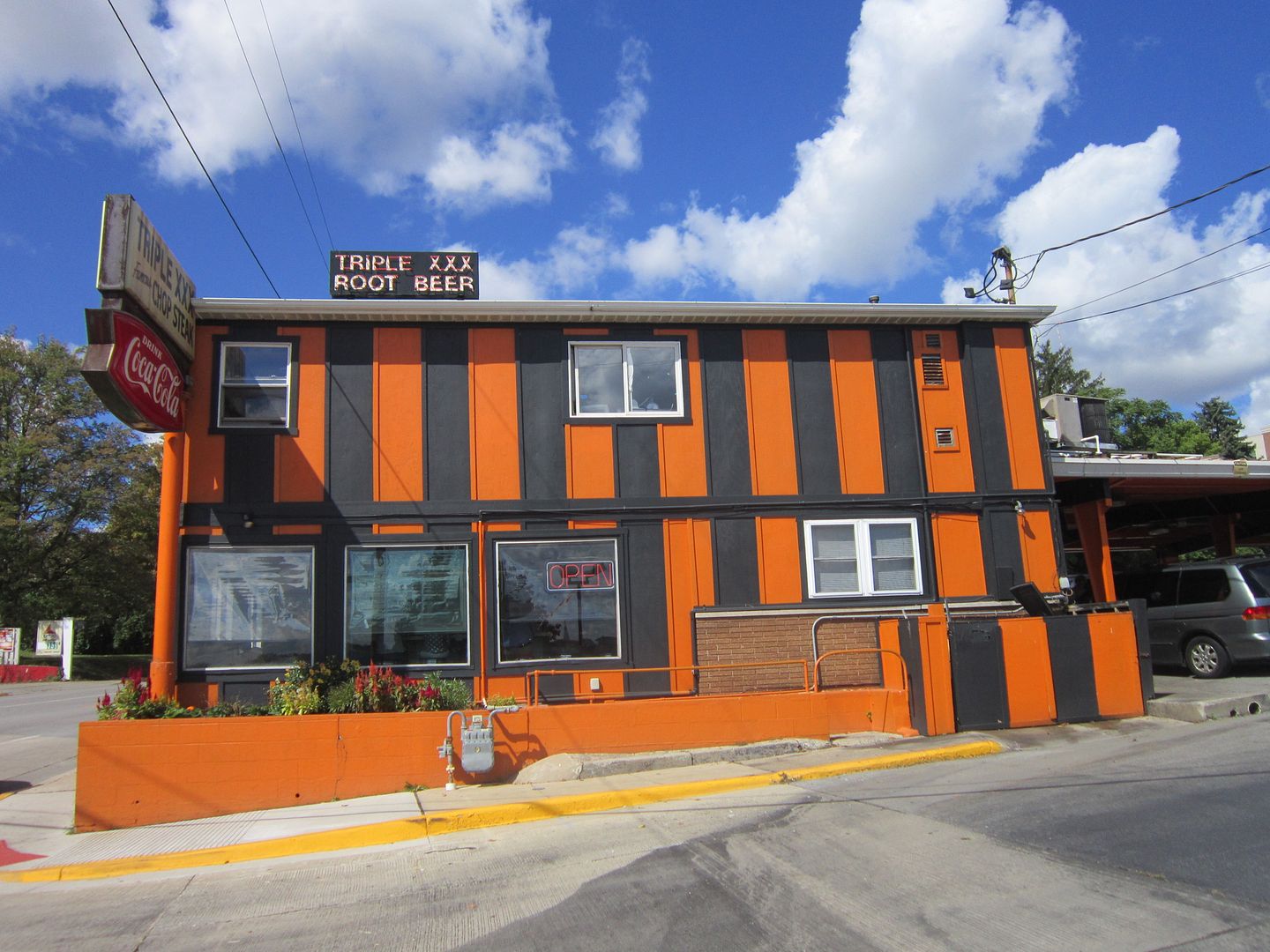 I'd been considering planning a visit for that particular weekend even before our email exchanges that week. Our Saturdays filled up quickly on the calendar, and October isn't looking any more desolate. The 21st was our best chance to drop by unencumbered by other obligations or opportunities. The proposed visit was cemented in my mind when his emails began showing signs of weakness.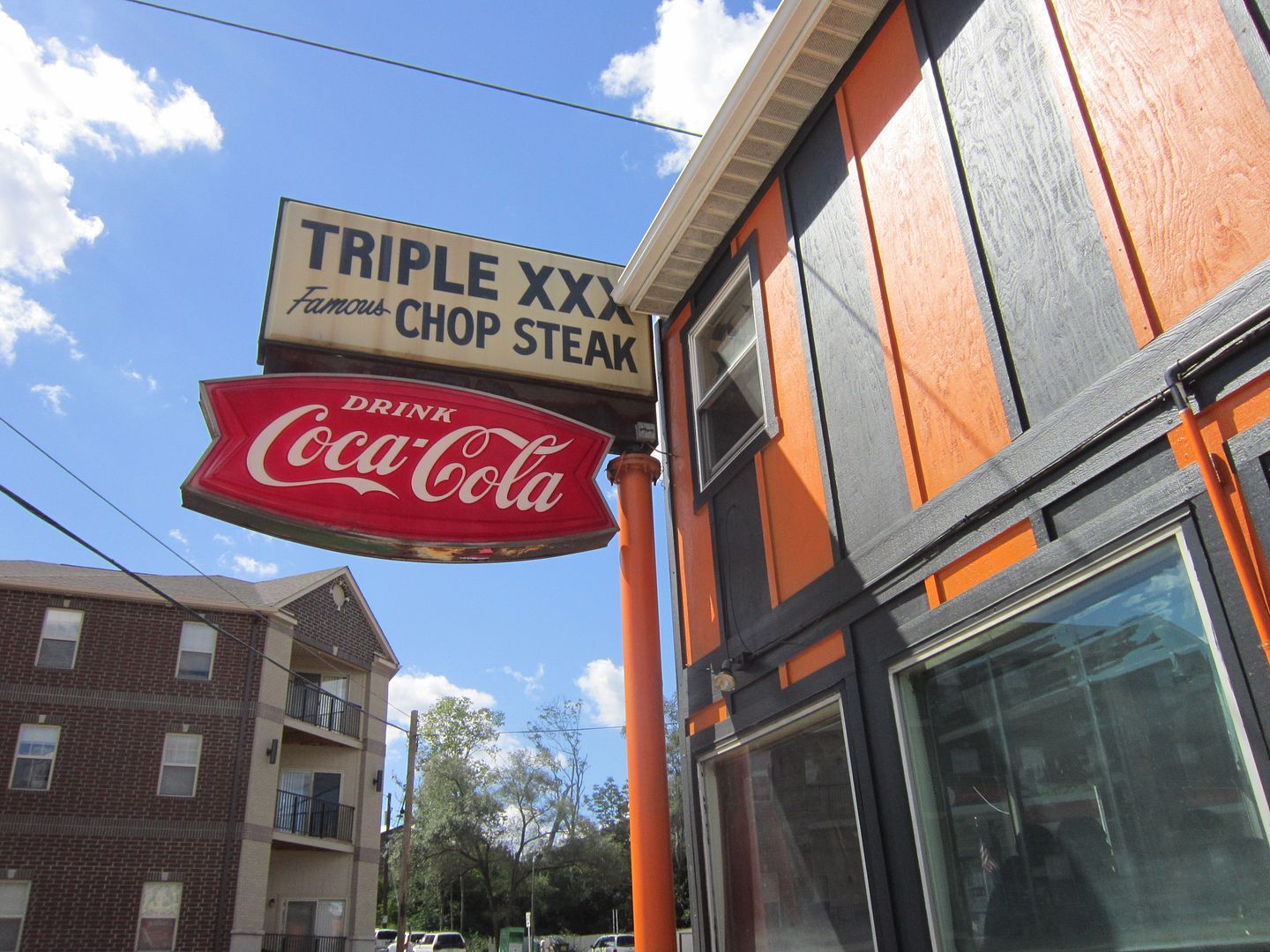 Thankfully his classes are going well ("easy but not boring"), the workload has been manageable (plenty of time to study/lounge around on campus between classes), and he's refused to be bothered by the rest of the student body's intense passion for all things made of sports. (That's my boy!) No, in this case it was physical weakness.
In preparation for the big move, we stocked up on several boxes' worth of food in advance so he wouldn't have to worry about extensive grocery shopping for a while. We figured one less concern on his agenda would give him a little more latitude to adapt to the harder parts of the bachelor's life — e.g., homework, daily chores, eerie silence, doing your own laundry, pestering the landlord for repairs, etc. The plan backfired in an unexpected way: he ate all the best food in his first few weeks, leaving himself high and dry with just the blander options waiting their turns in his cupboard.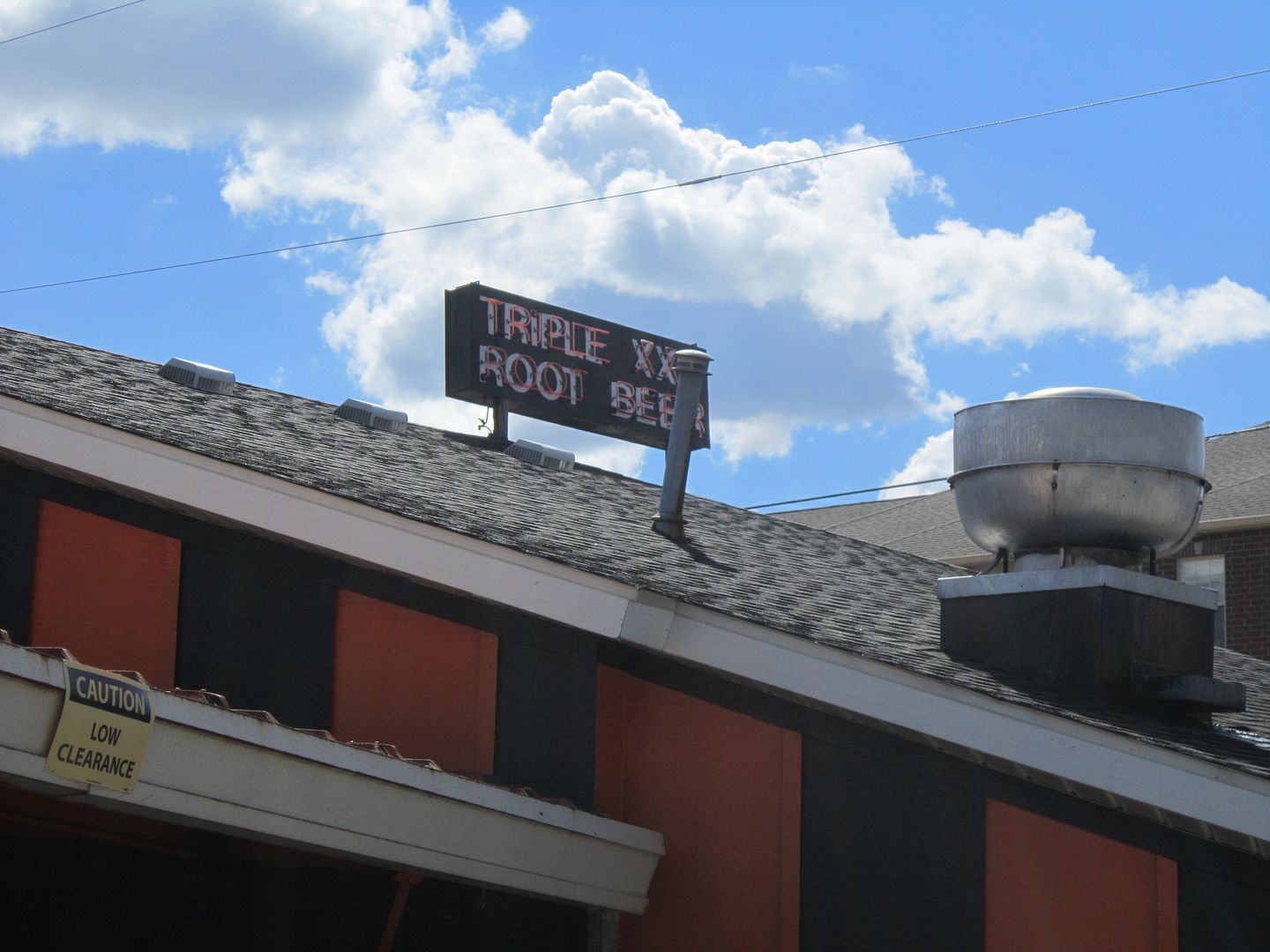 Though he had money for grocery shopping as needed, he'd decided on his own that he should try to make his initial stockpile last as long as possible. Once the tastier options were depleted, his meals in month two were down to noodles, soups, vegetables, and the like — in his words, "nothing but grain and water." Other humans can handle that, but I gather he wasn't built for the vegetarian's life.
I reminded him that I sure didn't tell him he wasn't allowed to buy more groceries till his house was foodless. If his diet had become unbalanced, it was up to him to supplement that as needed, by which I meant buying his own groceries without us holding his hand, pushing his cart for him, and planning his meals for him as if he were still six.
Just the same: we took him out for burgers, which is the Triple XXX specialty, no adult-bookstore vibe beyond their odd name. The appearance of our meals was unremarkable to us — hence the lack of foodie pics. None of us looked at our plates and thought "photogenic" or "archive-worthy". We agreed they were great anyway. I tried the only remotely unusual option on the menu, a bacon cheeseburger topped with peanut butter. That may sound incompatible to many of you, but if you consider how many nut-based Asian sauces are out there in the world, this wasn't too far a stretch. The creamy saltiness complemented the sandwich well. I might've been more hesitant if they'd used crunchy peanut butter.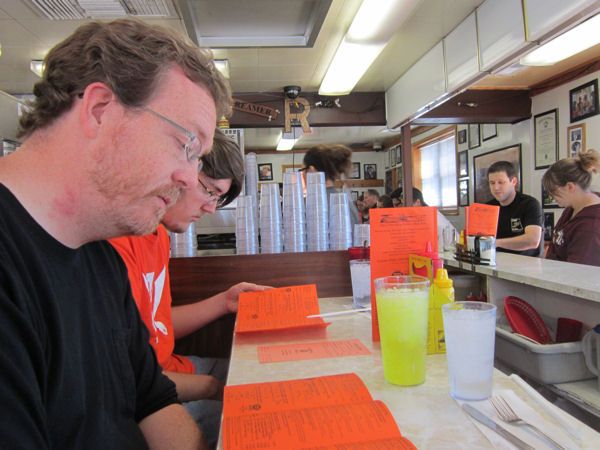 While we waited fifteen minutes for a table and uncounted minutes for service in their claustrophobic dining room, we chatted at length and caught up on conversations and comparisons we forgot to cover in email. Y'know, important heart-to-heart father/son stuff, such as our mutual amazement at how Sleepy Hollow has defied all odds by not being embarrassingly terrible yet.
I wish the visit had been longer, but we have our own households and agendas, and it's been years since he needed a parent to smother him with attention or entertainment for hours on end. We're still working to suppress that urge to include him in our event planning, still reasoning through the empty-nest adjustment process, and trying to consider these visits time enough in themselves, brief though they seem in retrospect.
Regardless, our objectives were tidily accomplished. He'd finally summoned the gumption to explore his nearby grocery the night before our visit, minding the prices and proud of the deals he'd found. His lunch was an appreciable reprieve from canned, microwaved, artless grain and water. We parental figures got our quality-time fix for which we'd been fiending. And we verified once again that yes, he's still alive. In case we were secretly paranoid about it.
One side objective also accomplished: we correctly picked a weekend in which the area was not overflowing with thousands of extra visitors. This weekend is his school's annual Homecoming event, luring families and alumni back into town amid the changing colors of fall for all the wide world of sports that such an event entails.
I wish them well with that. Our job's done for now. The boy is once again thriving, and he's taken a few more steps on the road to independence.
"Spirit Maker", indeed.