Today is Brought to You by the Number 300
If my entire comic book collection were in mint condition, one of the more valuable modern-age collectibles would be Amazing Spider-Man #300. Not only was it part of the run that cemented Todd McFarlane as a bankable superstar, it also introduced Venom, who in my teenage eyes became one of Spidey's scariest adversaries, up until Marvel later saturated the market with tons of Venom miniseries and crossovers. Though he wore out his welcome, I still hold a few fond memories of that era in the field.
300 isn't the most popular number around — not nearly as well regarded as 2, 7, 42, 500, or one billion. 300 is modest in comparison, but serves a purpose and makes an appearance wherever it's needed.
The 300th episode of The Simpsons revealed Bart's secret life as a child star, and guest-starred Tony Hawk and Blink-182. That's 300 in production order, anyway — in airdate order, it was #302.
The 300th episode of Law & Order: SVU aired October 24th, 2012. Two days later, the 300th episode of DeGrassi aired on TeenNick. If only each production had known the other shared their milestone, they could've orchestrated the greatest TV crossover of all time, though it might've guaranteed the violent death of a beloved DeGrassi character.
The 300th Star Wars action figure was a 2001 remake of Boba Fett, as if we needed more of him. I understand that edition was better sculpted than previous versions. For the Fett fans, no doubt.
Last June wrestler John Cena fulfilled his 300th Make-A-Wish request. Apparently a lot of terminally ill children really like wrestling.
If he were alive, Spain's King Ferdinand VI would turn 300 this year. He would also look really frightening.
In addition to the aforementioned Amazing Spider-Man milestone issue, my collection also contains copies of the following issue #300s: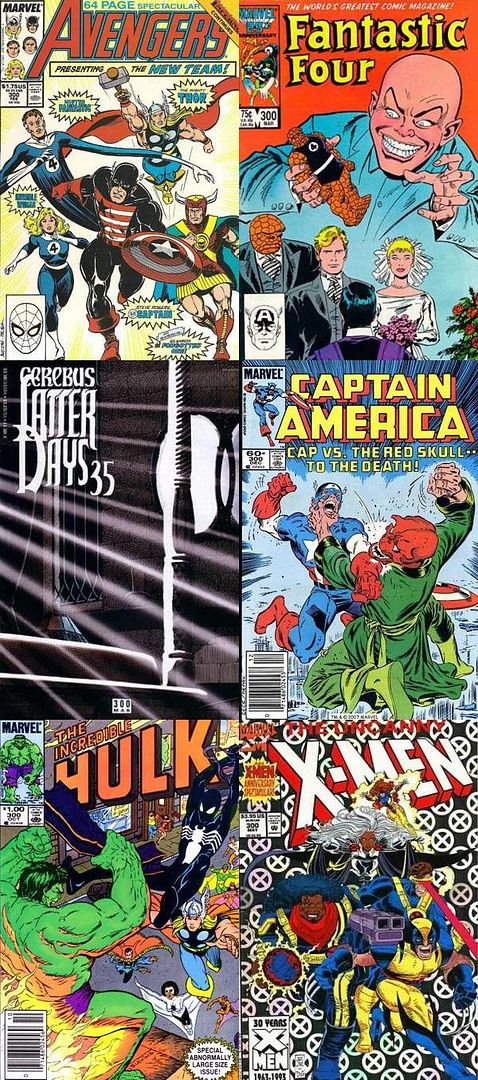 The most satisfying of those issues was Captain America #300, the conclusion of a long-running storyline by J. M. DeMatteis and Mike Zeck, one of my all-time favorite Cap teams. Granted, the climax is a preternaturally elderly Cap duking it out with a naturally aged Red Skull, but it resonated with an emotional finality that I wish had been allowed to stand as-is in continuity.
Hulk #300 capped a great storyline with a depressing ending and led to one of my least favorite Hulk periods ever. It's my understanding that Cerebus #300 cannot be discussed online without fistfights. The other three…well, they're still longbox placeholders. The less said about the wedding of Johnny Storm and Alicia Masters, the better.
I had hoped to see other comics companies represented, but DC's longest running titles all reached #300 well before my time. As the medium stands today, with the incessant demand for restarts and reboots, no comic book will ever again be allowed to reach #300 in my lifetime…except possibly Spawn, for all the good that'll do me.
I also once owned Entertainment Weekly #300, whose cover story celebrated Jim Carrey's twenty-million-dollar paycheck for Ace Ventura: When Nature Calls. Remember that time when we, the viewing public, helped make that happen?
Online writers a-plenty have enumerated 300 ways, 300 times, 300 reasons, 300 bests, 300 differences, and 300 other miscellaneous whatevers that share a thing, evince a quality, or improve a process.
Also, yes, as you expected, this man:
Fun relevant trivia: you're perusing the 300th consecutive installment of Midlife Crisis Crossover.
This figure includes a smattering of bonus posts, so one day next week (Thursday, I think?) will mark my 300th consecutive day of blogging. That's 300 straight days with no skip days. No time off for illness, though there were a couple of close calls, to be sure. No time off for family vacation or trips out of town. No "A picture is worth 1000 words!" single-photo filler posts. No pulling a random bon mot from Bartlett's Quotations, setting it in extra-large font, and passing it off as a daily writing allotment. No guest posts. (Yet. My wife knows she's welcome anytime.) Thankfully, no severe weather interruptions (one close call was narrowly resolved in time) or temporary loss of Net access (one day did require use of a backup measure). Only two or three reprints from my pre-MCC writings, all of which required newly written introductions, and at least one of which was subjected to more nagging perfectionist rewriting than it probably needed. Even the several dozen photo-gallery entries required formatting, intros, and my own special brand of captioning.
Not every entry has been a blue-ribbon winner, but I can't believe I haven't surrendered to writer's block yet. A few close calls where I sat down with zero ideas in mind were each inexplicably saved by eleventh-hour inspiration in various forms. Frankly, I'm surprised I haven't collapsed from exhaustion, either. I'm fairly certain working full-time and typing 500-1200 words per night and making time for family and maybe the occasional chore or household repair should have destroyed me by now. Whether by the grace of God or the stubbornness of a mule, it hasn't happened yet.
I've considered taking one evening off when I hit the one-year mark. I've also toyed with the notion of allowing myself the luxury of spending two days on an occasional, complicated post. Don't hold me to any of that, of course. Until I can convince myself that a day off won't cause the site to collapse from shame and ignominy, we'll see how long I can keep this journey going.
For your pretend end-credits pleasure, please enjoy tonight's closing number, the only on-topic song in my music library — a White Stripes album track called "300 M.P.H. Torrential Downpour Blues". Thanks very much for reading. See you tomorrow, and however many other tomorrows I'm permitted after that. At least 300 more would be nice.